Going slow with the family members does work. These boats will outlast all of us so there is no rush to try out all of the features. I am racing Murrelet (a Mac26x) on Island Series races this Winter in South Puget Sound both in fully ballasted and in unballasted condition. Tomorrow is a race around Hope Island but the real excitement will be Sunday when we likely will be planing in Budd Inlet (fully ballasted) - if the weather reports hold true. It would be great to see other MacGregor Yachts this week end. You can not imagine the number of former MacGregor Yachts owners in high positions running races in Puget Sound now. We get lots of encouragement and help from them as well as pain from anarchists.
If you are at all interested in the pain part see continued analysis of what happened owing to the 2002 drunken boaters case, resolved favorably for our cause (more Mac26x production) at
http://boatdesign.net/forums/showthread ... ge=1&pp=15
. The thread is about TP52s but there is a connection to Mac26x cruisers which is explained at the top of the thread. The usual fans have recently become involved. Visit if you dare and can not sail this week end.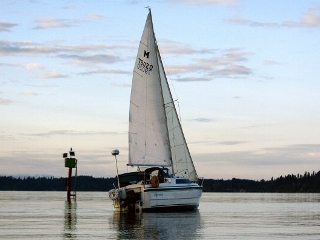 Murrelet in her first race unballasted. is shown above.