Ok, I finally got back on the rudder project and have my lumber ready to laminate together. It has been really humid here and I was waiting for it to dry up a bit.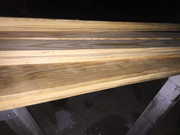 As you can see in the photos, all I have done is cut a 1/2"x1/2 " groove in the 2x12 and cut the 2x4s with the matching protrusion. I'm not sure what this joint is called, but it was quick and easy for these test boards. After laminating the together my plan is to lay out my NACA 0010 profile with 17% aft of the leading edge being the thickest. I am not really sure how the leading edge of the scallops is going to play into this profile?? I have emailed Mr Fish and asked for the info but have not heard back. It is my understanding that it is available for private use only. Hey that's me! I got the faith! The beauty of projects like this is with plain pine lumber the sky is the limit. Dang; "I cut it three times and it's still to short" !! : )
As I get further along I will document it here.