Hi all, I already posted one question, but figured I should create a thread for what I'm sure will be lots of questions, and to post progress pics of our new sailboat. I believe she's a 1985(maybe 84) Macgregor 25. (i still don't know if that makes her a 'venture' or not?) and I bought her on a trailer with a 9hp Merc outboard for $2600.
About us: I'm a disabled vet, my wife has put up with countless deployments and injuries and surgeries etc, and our plan is to become liveaboards when the kids graduate from high school (2025). In the meantime, we really need to brush up on our sailing skills, and since we have ZERO knowledge of anything mechanical, electrical (I'm scared to death of frying myself via electricity btw), plumbing, rigging, etc....we (I) decided that there's no better way to learn than by doing.... so we bought our little Mac.
I saw a great thread by Sisu on his/her restoration, but since it was posted in 2016, all the pics are gone.... I've sent Sisu a DM to see if I can get some pics/advice since I'm following in their footsteps.
Now on to our boat: She'd been sitting in a field for several years, unsailed. She was dirty, her upholstery is dated, the wiring consists of those heavy orange, construction project extension cords and all bundled up in a mess behind the winch that raises and lowers the keel, there is HEAVY oxidation on the exterior hull from sitting unprotected/unwaxed in the sun for years, and the bottom has seen better days for sure.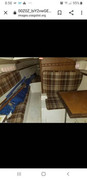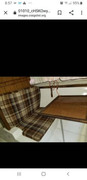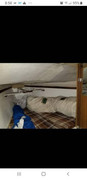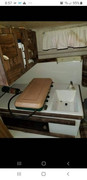 We started by pulling everything that can come out, out of the boat. The cushions smell SO strongly of mold/mildew that we pulled covers off to wash them, and discovered mold in the foam... can these be saved? We're already pricing out new foam $$$$$$ - cheapest my wife found for interior foam is from foambymail.com (admin please edit if mentioning this website isn't allowed)
We pressure washed the exterior and cockpit, scrubbed with simple green and set off 2 bug bombs inside the first day and evening, we also pulled the jib and genoa out of their bags and put the bags in the wash on a 'gentle/sanitize' cycle after scrubbing with simple green and water as well, and that seemed to get rid of all mold on the bags. The hornets in the stern 'foam area' were dead the next day and I removed all the foam, got rid of all the hornet nests and threw the foam blocks back in there.
My wife began painting the interior to brighten it up, thanks to the threads here I previously read, we decided on what has worked well for others, Rustoleum gloss white (with a touch of blue added). I began removing all the oxidation on the hull, I tried using compound I use on vehicles, but it wasn't cutting enough, so I moved to 2000 grit wet sand, which did the job, but required so much effort I was not going to be able to use my shoulder the next day, so I moved up again to 1500 grit wet sanding, and got good results with medium effort. I'm waiting on some marine oxidation compound (arrives tomorrow) and will hit the entire hull with that, and then "the last coat 2" (haven't used on a boat yet, but I HIGHLY recommend checking it out, I use it on metal, glass, car exteriors, car interiors (except leather) and even in the house....the stuff is amazing and I checked, it's fine for gelcoat!) and a single layer of marine wax for protection with my DA polisher this coming week.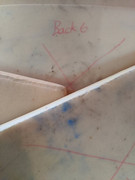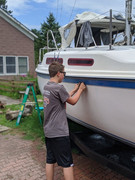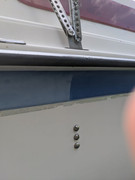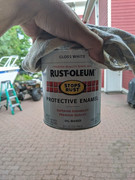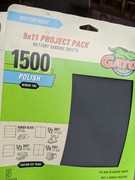 I'm not sure what 'wire' I need to buy to fix the electrical mess (or what sizes of wires I need?), and I'm thinking I should hire an electrician, because again, I'm terrified of electricity, (is this something I can really do on my own?) I'm pretty sure that when I was learning to fly CH47's, we learned that it's supposed to go, Battery (pos) to switch, switch (pos) to device being powered, device being powered (neg) to a bus bar, bus bar (neg) to battery. I have no idea about ground wires....? Anyway, this mess doesn't look right... and I don't even know if it works. Getting a battery this week...if you don't hear back from me, I've probably been electrocuted to death.
My compass is not even attached, not that it points north anymore.... any suggestions here? There is some weird carpet like material covering it on the inside FWIW.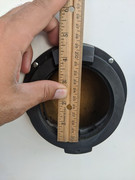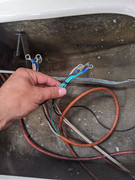 The lifelines are coming apart so that the wires grab your fingers.... so I'm planning on replacing the verniers with a pelican hook attached to SS turnbuckles and the lifelines with 1/4" dyneema. I already have some experience making soft shackles and have the fids/D-splicer, so I don't anticipate it being terribly difficult, just waiting for materials to come in, and a rainy day to work inside on splicing to length.
Appreciate any and all comments, I've heard that the new guy buys pizza... unfortunately I just bought a fixer upper boat....so....I'm broke...would you settle for a beer and oh...can you help me with....