I'm the proud new owner of a '93 26S, and I have quite a few questions!
Baby stays
I have a set of 6' long baby stays that came with the boat (not fitted). But they're too short to reach from the deck attachment points to the gin pole attachment point on the mast, hence the length of rope. I'm also not sure how to ensure good tension in the wires without stay adjusters / turnbuckles.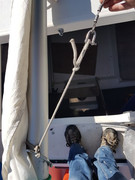 New longer stays, perhaps with a tensioning mechanism?
Keep the temporary 1' rope lengths, and use this to tension?
New attachment points on the mast 1' lower down?
Non-folding spreaders
I have spreaders that are supposed to fold, but one doesn't due to the nut in the way.
How are these supposed to be attached to avoid this?
Replace with fixed spreaders?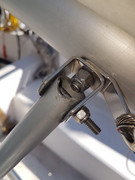 How to adjust roller furler tension
Am I missing something stupid... can't see a way to change the tension on the CDI furler, at least not without dismantling it?
If it's not possible, is it ok to only adjust the backstay?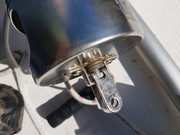 Enlarged holes in mast base
Both the stepping hole and the trailering hole are oddly twin holes of slightly different diameter.
Is this a cause for concern?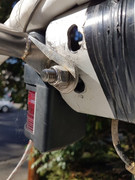 Blocking lazarette from cabin
When people talk about sealing the laz off from the cabin prior to venting and storing fuel, is it these side gaps they mean? Do I need to worry about the bilge as well?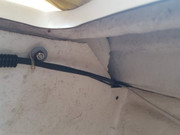 How much is too much leakage from the ballast valve?
There's a constant flow of water coming out on the ramp with the valve closed. Flow is notably more when the valve is opened, so it's doing something... Is this an issue? The pressure difference would be fairly low when sailing, even when healing?
Leaking pop top rivet
I'm getting a fair amount of rainwater into the cabin. At least some of it is coming from this rivet. Easiest way to fix?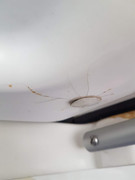 Thanks very much!
Ralph