Went out yesterday with my neighbor in his j22. Tried to go at 0930, low tide and north wind. Dropped the boat in the water with his club's travel lift and it pretty much stuck the keel in the bottom. We heeled it over and moved it to the dock, tied up, and decided to come back at 1400 to try again.
At 1400, the tide had started back up, but the north wind was still blowing the water out of the bay. He raised the sails so we could use the wind to heel the boat, and I hiked out on the leeward shrouds. We were able to get to the mouth of the channel and thought we were good. Then, sudden stop and quick uncontrolled pivot. Fortunately, the club's rock jetty was upwind. Our downwind impact would be some piling left over from a recently destroyed pier (what a hurricane season). I quickly assumed the outrigger ballast position on the shrouds. He worked the kicker tiller back and forth, and close-hauled the sheets, and we were able to bump free. Once we found enough water, we had a great 3 hour sail, only running aground for a brief period in a spot he didn't remember being shallow (storms tend to shift the sand bottom around).
Wind built steadily as time went on, ending up close to 15 knots by dusk. My buddy decided we'd sail her in, close hauled, in case we didn't have much water. The kicker was on the windward side coming in, so we wouldn't have any thrust at heel anyway. We came blasting into the club channel at 5.5 - 6 knots with the leeward rail buried. Fortunately, we didn't hit. The boat was heeled further than when we were coming out. I was not on the shrouds coming in, as grounding at that speed would have meant an unscheduled swim.
It was a great sail! However, I couldn't help but think that we could have been on the water all day with a dagger or swing keel boat. The j boat is fun to sail when you have water under it.
I am planning to install a depth instrument to take some of the surprise out of my sailing. My buddy is about to change boats. He doesn't keep a battery in his boat now, although a depth instrument would have been handy...
My buddy hiked out during our brief grounding in open water. I was on the tiller.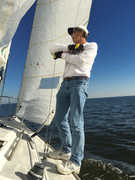 Couple of shots of the bay. It was a beautiful day.