After some very helpful email exchanges with Christie Bliss, the manager at Highport Marina (Pottsborough, Texas), I trailered our 26S up from Grapevine, Texas on Wednesday September 15th, arriving about 12:30 PM. Once at the marina, Doug was very helpful, showing me around the HUGE marina (which makes sense because Texoma is a HUGE lake), and providing a slip for us to overnight in if we chose.
Sidenote: Highport is a member of the Safe Harbor chain. If you plan to do a lot of lake-hopping and you have the option to choose a Safe Harbor marina as your home port, I would definitely encourage you to do so. It makes a world of difference when it comes to transient boating.
Highport is about 90% power boats. The sailboat moorings are waaaaay over at the southwest part of the marina, a long walk from the main building, restaurants, and launch ramp. We had two vehicles, so it was no big deal. Absent that, I would have had to walk from the slip to the launch ramp or ask for a courtesy ride, which I'm sure they would have been happy to provide.
If you are not familiar with the MacGregor 26S, it is an easily launched and trailered boat. I got the mast up and everything rigged and was on the water by about 3:00. I was excited to try out my new 150% Genoa, but unfortunately the wind wasn't as cooperative as I would have liked. I sailed around for a bit, found a shallow spot with my centerboard (the areas between and north of The Islands can be tricky) and headed in to wait for my wife to arrive.
We overnighted in our slip at Highport, and Thursday morning we sailed over to one of the sand islands and anchored there to cook breakfast. Afterwards, we sailed/motored up the Marina Del Ray, intending to have lunch there, but they were closed. (Pro tip; call ahead). "Sanitizing", they said, and suggested we try the restaurant at the Alberta Marina up the North Arm of the lake. We opted instead to motor down to the Grandpappy Marina in the Little Mineral arm. It took a little over an hour at 7 knots (Texoma really is a very big lake), and we had a nice lunch at The Point restaurant. At the fuel dock, another very helpful Doug told us about some great mooring sites not too far away, on the west shore of the Little Mineral Arm.
For most of the time, the wind was low or non-existent, although we did have a nice breeze between 4:00 and 6:30 Thursday evening, and a little bit around 10:00 AM on Friday. The rest of the time it was downright glassy. Thank goodness for my dependable Tohatsu 8 horse outboard. Made a huge difference in this HUGE lake.
Just like Doug had said, we found several inlets with mooring floats. He had no idea who set them, but there they were, securely anchored to the bottom, close to shore but in reasonably deep water, with loops on top to make it easy to tie off to. We tied up to one at the east end of one of the coves, had a swim, explored a bit on the shore, and did a little sailing when the wind picked up.
I was VERY pleased with the performance of the Genoa, a Rolly Tasker 4-ouncer. I haven't really had a chance to test it in anything over about 13 MPH winds yet. I'm hoping to see improvement in upper-end speed, but hull speed may be a limiting factor. At the very least, I know I am sailing better in light breezes than with the stock 100% jib.
We returned to our mooring spot about an hour before sunset. Enough time to get the aft anchor set, rig up the hammock on the foredeck, and get the Magma set up and ready to go. We enjoyed a lovely dinner of steaks and pre-made mashed potatoes (the latter of which was warmed up in a miniature crock pot), enjoyed a few cocktails and settled in for the evening.
We were surprised how NOT crowded the lake was. I surmised that it was because Texoma is not really close to a major metropolitan area. Another thing that struck us was how quiet things are there. No airliners overhead, and little to no traffic noise. No mosquitos, but we both did end up with some insect bites around our ankles. Not sure where they came from. Fortunately, they didn't itch enough to bother us.
Friday at dawn, we brewed coffee and watched the numerous schools of fingerlings disturb the otherwise glassy water. Feeding on whatever bit us that night, hopefully. After coffee and cookies for breakfast, we set out to take advantage of the breeze that came up. Afterwards, we had lunch at The Point, then motored back to Highport Marina. Took about an hour and a half. (Did I mention that Texoma really is a VERY BIG lake?). The ramp was uncrowded except for this doofus who decided to put his powerboat halfway in the water, started the motor, and proceed to rev it repeatedly for reasons unknown. It was ridiculously loud and extremely obnoxious, reverberating off the nearby cliffs. When he finally shut the thing down, the patrons on the deck at The Island restaurant nearby applauded enthusiastically, and several less-than-charitable comments were hollered at the offender.
With very little breeze and rising temperatures, dropping the mast and getting everything road-ready was a thirsty task, but once everything was done, we drove over to nearby Tanglewood Resort, where they have this great observation tower complete with a lounge and bar. We chatted with a few of the guests and admired the view, thinking that it might be a fun place to bring the family some time. Finally, it came time to head home, so we grabbed some food and refreshments to go from Big Daddy's and drove back to Grapevine.
We are already making plans to return. With so much to see and do on this HUGE lake, one trip just isn't enough!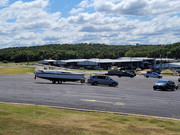 My rig in the launch ramp parking area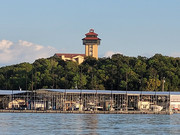 Highport Marina and Tanglewood Resort tower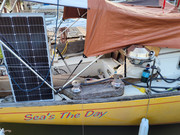 Boat next to our slip. More like "Sleaze the Day" if you ask me.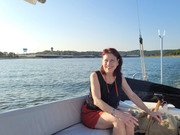 My lovely bride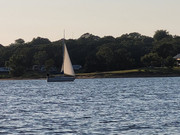 One of the few sailboats we saw. A MacGregor if I am not mistaken.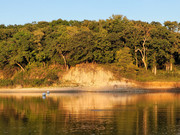 Dirt bluff with mooring balls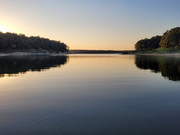 Sunset at our mooring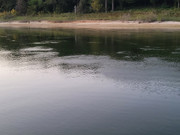 Fingerlings feeding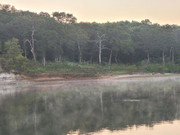 Morning mist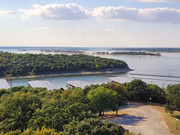 View from the tower