Moderators: kmclemore, beene, NiceAft, Catigale, Hamin' X
Admiral
Posts: 1707
Joined: Sun Feb 26, 2006 7:20 pm
Location: LeavenworthWA 2002 26x, Suzuki DF60A
Finally going to be able to get out on the water. This will be a short 4 day excursion on the Wanapum Pool on the Columbia River, which is not far from where we live. This reach of the river is mostly roadless, and the river is bounded by arid sage steppe hillsides and rugged basalt cliffs. There are just enough little coves to afford protected moorage opportunities. Wildlife in the area includes deer, elk, beaver, waterfowl and songbirds. We did our voyage in Chinook there back in April, 2002, and haven't been back since. We're a little late for wildflowers, but the weather forecast is decent, and it will be a good opportunity to try out the new Garmin. This will be a shakedown cruise for a 2 week trip sometime in July. We're thinking of doing a thorough explore of Lake Roosevelt, above Grand Coulee Dam. I'll write up a trip summary of the Wanapum outing and try inserting some photos after we get back.
---
Very Cool.. looking forward to the write up!

AD
---
Captain
Posts: 501
Joined: Thu Apr 23, 2015 6:49 pm
Sailboat: MacGregor 26X
Location: Camas, WA; 2001 26X w/ 2015 eTec 90
We went to the Gorge Amphitheater for the first time last year. I think we could anchor in the cove behind the stage on the other side of the river. We were going to go up for another concert this year, but COVID. Looks like the amphitheater is on the north end of Wanapum Pool. I'm looking forward to seeing how your trip goes.

We took the boat up to Banks Lake by Grand Coulee Dam. We went in April for spring break. It got down to 35F at night, but we had a lot of fun fishing, swimming, hiking, and sailing. I'd like to go back and do Roosevelt Lake. Someone else posted a tip there a couple of years ago. It's on my list and I'd love to see one of your detailed trip reports.

Jeff
---
Admiral
Posts: 1707
Joined: Sun Feb 26, 2006 7:20 pm
Location: LeavenworthWA 2002 26x, Suzuki DF60A
Got back around noon. Great trip, and as soon as I get the chance, I'll provide some details. Also, I'll do a journal for the Lake Roosevelt trip later this summer. It was great to be back on the water. That lagoon you mention, across from the Gorge Amphitheater, is where we spend our second night. It's a great place to anchor and hang around. We've also been out on Banks Lake. Great fishing lake, but we did get hammered by an extreme wind event. Winds of around 50 mph. Anchor held, but the bottom didn't. We ripped out a huge chunk of weedy bottom and dragged the whole mess. Got pushed ashore on a narrow sand beach, which was flanked by 2 rock piles. After the wind eased up we were able to kedge back into the water. I tend to be suspicious of anchoring in reservoirs.
---
---
Admiral
Posts: 1707
Joined: Sun Feb 26, 2006 7:20 pm
Location: LeavenworthWA 2002 26x, Suzuki DF60A
Sometimes it's better to be lucky than good. On that day at Banks Lake I was definitely lucky. Boat went ashore on soft sand beach, with gnarly rock piles 20 feet away both fore and aft. Nary a scratch, from that incident at least. I can walk around the boat and show you minor scratches and nicks picked up from various memorable incidents, collected from all over.
---
Just think if you had a Keel boat!!

Glad its all ok..

AD
---
Admiral
Posts: 1707
Joined: Sun Feb 26, 2006 7:20 pm
Location: LeavenworthWA 2002 26x, Suzuki DF60A
Columbia River trip report, as promised:
Wanapum Pool Cruise, June 15 – 18, 2020
The reach of the Columbia River between Vantage (where I-90 crosses the river) and Rock Island Dam is about 30 miles in length, and is known as Wanapum Pool. This stretch of the Columbia winds through rugged basalt formations, up to 1000 feet in height, which rise abruptly above the river. In places, sheer 500 foot cliffs drop right into the water. Unlike most stretches of the Columbia, this region is roadless and largely undeveloped. Along the western shore a series of deep canyons, with names like Quilamene, Skoomchuck, Whiskey Dick and Cayuse, descend to the river. The small perennial creeks which run down these canyons support lush riparian vegetation, which is in stark contrast with the arid uplands. This habitat is rich in wildlife, and the flooded mouths of the creeks form cozy little bays which offer excellent protected anchorage.
We made our maiden voyage here with Chinook in April, 2002, and hadn't been back since, so this cruise brought back vivid memories. We mostly motored, due to the light winds. Wanapum Pool tends to be either blowing a blustery gale or is dead calm. The weather on Monday was overcast, with a light drizzle, which actually worked in our favor for rigging and launching the boat. We made a short 6 mile run up to Cayuse Creek, but discovered that some travel trailers and storage containers had been hauled in there via the primitive dirt road which drops down to the river. The shoreline was studded with "No Trespassing" signs, so we went another mile upstream to a completely empty, undeveloped and unposted Whiskey Dick Creek anchorage. The place was alive with birdsong, which entertained us while we barbqued kabobs and veggies on the Magma grill. Next morning we went ashore and walked nearly 2 miles up the dirt road, looking for birds. Lazuli buntings, Lewis's woodpeckers, bullocks orioles, and black headed grosbeaks were some of the more interesting birds we sighted. We returned to the boat in time to have lunch aboard, and then ran up to Quilamene, which is located directly across from the Gorge Amphitheater, which hosts major outdoor concerts during normal times. We anchored at the head of the bay and left the inviting sandbar at the bay's mouth to the ski and pontoon boats, which love to haul up there. After a dinner of grilled steaks we went ashore for an after dinner walk up Brushy Canyon. Next morning we walked up the main Quilamene valley, which still shows evidence of old homesteads and irrigation efforts. We added western bluebird, prairie falcon, white pelicans, common loons, and western grebes to our birds sighted. While eating lunch back on the boat, we watched a 3 foot rattlesnake swim across the bay, then haul itself out on the shore. That afternoon we ran back downriver to Whiskey Dick for our final night. On Wednesday morning, I raised anchor at 6:00am for an early morning run back to the ramp, so we could get home by noon.
All in all, an excellent first outing of the year. In addition to the pleasant cruising, excellent meals and great birding, I had a chance to try out my new 9 inch Garmin Echo Map plus GPS/depth sounder unit. The clear view and side scanning sonar features are truly remarkable, and in addition to being useful for fish finding, they permit very detailed survey of anchoring bottom conditions.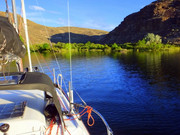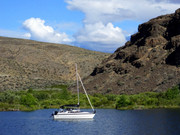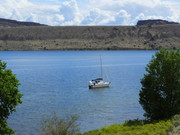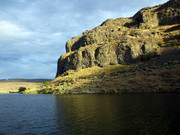 ---
---