Moderators: kmclemore, beene, NiceAft, Catigale, Hamin' X
Admiral
Posts: 3896
Joined: Fri Aug 27, 2010 10:00 am
Sailboat: MacGregor 26X
Location: Chicago metro, USA
Anyone suggest a good wnter fuel (87 octane gas) additive?
---
Engineer
Posts: 162
Joined: Sat Aug 11, 2012 12:53 pm
Sailboat: MacGregor 22
Location: Dania, FL
Well, I like Sea Foam if I am running the engine or Sta-Bil for storage. But us Florida folks don't really know anything about winter.
Chip V.
S/V Sand Dollar
---
I 2nd sea foam I used in all my small motors, snowmobiles, weed Wacker, and my nissan 40 hp 2 stroke in our macgregor. I use it to stabilize over winter and periodically dump a bit in the tank to clean the fuel system.

Great stuff!
---
Admiral
Posts: 3896
Joined: Fri Aug 27, 2010 10:00 am
Sailboat: MacGregor 26X
Location: Chicago metro, USA
Yeah, I've used Sea Foam in the past and it says "Fuel stabilizer" on the can so I'll stick with it. Thx.
---
Admiral
Posts: 6521
Joined: Thu Oct 11, 2007 12:01 pm
Sailboat: MacGregor 26M
Location: Bozeman, Montana "Luna Azul" 2008 M 70hp Suzi
My understanding is alcohol in the gas is a problem when storing over time.

I've come to use pure gas exclusively. Most gas stations here that use 91 octane are pure gas.

I also try to run all the gas out of line and siphon as much gas out of the tanks as possible. I hope I'm doing right.
--Russ
---
Admiral
Posts: 6115
Joined: Tue Jul 05, 2011 7:42 am
Sailboat: MacGregor 26X
Location: Rochester, NY '99X BF50 'Tomfoolery'
I fill the two 6-gallon boat tanks with ethanol-free gas with Stabil, and store them for emergency generator use. I also keep the generator's 5-gallon tank full, and my two 5-gallon metal 'safety cans', all with Stabil. An ice storm can really ruin your day without heat and hot water. And Netflix and Prime, though I also have an antenna in the attic as a backup. But I digress.

I run the engine out of gas, then drain the three float bowls. They have drain valves and even a couple of hoses tucked inside, just for that purpose. There isn't much else you can do as far as gas goes.
Tom
Be seeing you . . .
---
Engineer
Posts: 192
Joined: Fri Oct 21, 2005 5:33 pm
Sailboat: MacGregor 26X
Location: Puget Sound, 2001 Sold Oct2021 "Aqua Dawg", 70hp Yam
I love Seafoam for a "spring cleaner" in my outboards, lawnmower, and generators. But, since it has Isopropyl Alcohol in it I don't use it for storage. I use Startron with good results for that. Stabil also will work great. Here's a link on fuel additives, and they state it's best to use ones without any kind of alcohol in them ......
http://www.fuel-testers.com/is_gas_addi ... _list.html
---
Admiral
Posts: 5064
Joined: Tue Feb 01, 2005 7:28 pm
Sailboat: MacGregor 26M
Location: Upper Dublin,PA, USA: 2005M 50hp.Honda4strk.,1979 Phantom Sport Sailboat, 9'Achilles 6HP Merc 4strk
I have used Sta-Bil for a long time.
The fellow who has been winterizing Nice Aft for years tells me he uses this.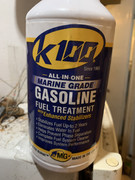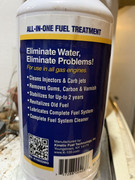 He says it's better.
Ray ~~_/)~~
---
Admiral
Posts: 5588
Joined: Wed Sep 21, 2005 8:25 pm
Sailboat: MacGregor 26M
Location: Maccutter26M 2008 75HP Merc. 4/S Victoria BC. Can. ' An Hileanto'ir III '
Contact:
Ray do u feel flushed after drinkin it !
J
---