For day sails and weekend trips, the Mac has served us well. We rough it, swimming in lakes and going to bed feeling only slightly grungy after mere sponge baths.
We started doing some extended week-long type trips in Florida and found the pleasure quotient went way down toward the end of the week with ice gone and hot, stinky crew.
And... I can't even begin to tell you without using sailor's language how I don't like the port-a-potty.
So... In an endeavor to bring the
up to an RV's level of comfort so we can extend our trips, I want a shower and a proper "thinking" room... preferably with some sound deadening.
As... you might already know in project MX-4, the old head space is no more and good-riddance. The Admiral didn't like the idea of sky-lights over the Pot-ay. She had them covered up. So without further a-do and where the X portion of the MX comes into play... I'll be moving the head to the location where the X has it.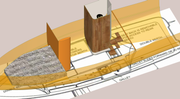 From what I've scoped out...
It will be a "wet" head - showering will wet down the whole area.
The shower area alone will be about 2' x 2' of flat floor space. The floor height will be defined by the top of the longitudinal spine/tank ballast runner.
At hip height it will be almost 3' x 3'.
Unfortunately, the height will only be about 5' 6" which is the best that can be found in the M without being in the central floor.
For me at 5',8", I am able to stand strait up as long as I bend my head over. The Admiral won't be bumping her head at all.
The throne (an incoming AirHead Composting Toilet) is at the aft-end of this space and does

NOT

encroach into that 2' x 2' floor space.
In other words, if you've been on a cruise ship, the shower space will be larger here.
The water will be electric pump pressurized to 30 psi.
I am looking at ways of heating the water, but that is still TBD.
I'm not sure if my carpentry skills are up to it, by I want to attempt to make the rounded corner using wood paneling. I am also hoping to make the door open inward versus outward as on the X. I will be evaluating once I get to that point, but things might change.
Here is a animation showing my current expectations.
https://inqonthat.com/wp-content/upload ... 1/Head.avi