Hello
I finally are in constructing a swing up ladder for the
I tooke a normal folding ladder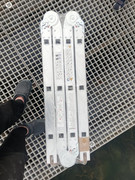 it gives to the folding function. The ladder must be folded to swing up. The swing up position is for security that nobody from the cockpit falls inside the boat when the ladder is away.
Finally I'm half ready: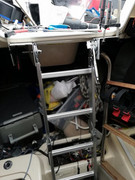 At the end I will put bigger wooden steps to make it more comfortable and also it shall give a better look.
What I'm not sure at the moment:
The ladder is structural watch here:
viewtopic.php?f=8&t=27483#p339276
I think the fold up ladder will not be as strong to hold big pull from the traveler. The alu angles are way not at the perfect point to hold too much upward stress I think. I can do this alu angles in 6mm or 9mm.
So I have to know if I just have to worry about sustain the traveler.
In this case I could install a
ss wire rope
connected directly at the big bolt from the traveler and go vertical down to connect.
OR must it be a
pole
that can take loads in both direction? Actually I think the boat can easily hold the people in the cockpit without a pole under the traveler. But who knows?
What are you guys thinking about?
The
locks twice big when this *ucking ladder is out of the way...
Hope it will work out finally.