Hi All
This is our Air Conditioning Mod for a Mac26X.
We took a 6000 BTU 115 VAC portable single exhaust tube room A/C unit and installed it in our Mac26X just aft of the battery box next to the Galley.
We looked at several different options but decided on the simplistic approach at this time.
The addition of 2 eyelets to the aft of the battery box allows for a ratcheting tie down to hold the A/C unit in place. We contemplated mounting it to the starboard side sort of behind the head in the aft berth to better balance the boat (as the dual batteries are in the port side) but the access geometry really didn't work for us.
The single vent pipe was placed in a cutout and hatch in the starboard cockpit bench wall.
We cut the opening to fit the same style and model as we have used previously for the fuel tanks mod and for the electrical mods. We then modified the hatch to have a two loop pin latch mechanism. A SST strap hinge was located about 1/3 the way down from the hinge on the inner face of the hatch interior wall to act as a prop to keep the hatch open for venting.
Yes a single exhaust tube A/C unit does rob some of the interior air to cool the unit and Yes this does draw in outside air at the hatch openings but with a piece of pipe foam we have been able to nicely control the leakage inwardly with slip pipe insulation tubes.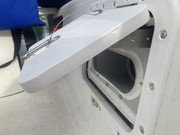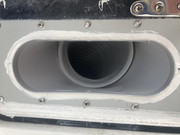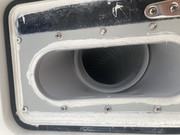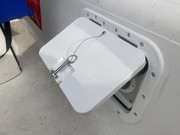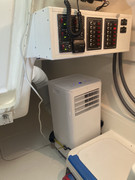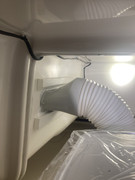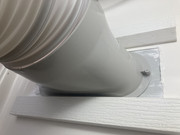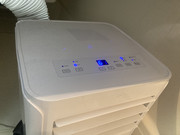 One does need to remember to open the vent hatch and prop it open with the strap hinge before turning on the A/C.
Yes this A/C approach limits it's use to where we can obtain shore power at a marina or at campgrounds but it really has been a very enjoyable modification! It has made our trip much much much more enjoyable!
Best Regards,
Over Easy