So I'm in the middle of a repower my
with a Suzuki DF90 and I started thinking that I better do something about the old rusty mac trailer. The frame rails weren't that bad, but the axle and springs hangers were horribly rusty...
I sourced all my parts from ebay and amazon:
Parts List (So Far)
2 Galv Spring U bolt sets
1 tandem spring hanger kits
I read a lot from this forum and I wanted to keep the tandem axles centered with the original axle to maintain the same tongue weight, but the bend in the frame rails would not let me move the axle that far. I moved the axle as far forward as the frame would allow me, but with the extra weight in the back, I think it is going to be a wash. The only hiccups I had was that the kodiak brake kit did not include the hardware for mounting their bracket to the axle. I guess I'm going to have to order it separately.
Overall I'm happy with he result, but there's still a lot of work to do.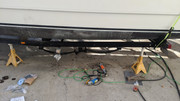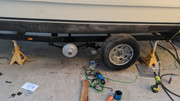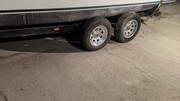 Next items on the list:
caliper mounting hardware
I'm starting to think, I should have just bought a new trailer