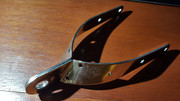 This is embarrassing. I searched BWY and couldn't find one to get a name. I searched Google for "
thing that connects cables to mast
". No luck. I thought it was also called a bridle, but that keeps getting me anchor bridles on the Internet and here on the forum. If I could just find a name, I'd like to see what recommendations there are on the forum.
This is a second one so I can raise the Asym Spinnaker. I'm tired of it fighting with all the other connections on the main one for the shrouds. I assume if I get it too high, it might damage the mast. Seems like I recall Highlander has a mast-head one, but he also has another set of shrouds to the mast-head. For this month, I'd do the lower Asym mount either off the anchor roller or the pulpit. Eventually, I want to make a bowsprit and would like this second
thing
to be at a good height for the bowsprit geometry.
I'm guessing if I just knew what to call it, there'd be plenty of hits.
Thanks all.
Inq