Been doing a number of upgrades as I am planning to be out more on my
.
Choose the
KiloVault 2400 HLX+
lithium 200 amp hour battery.
Why ? It's available here (no tax or shipping ) Size, it fits in the space on the boat. Also it is
UL 1973
certified , Only 59 LBS. Price.
Charging will be done with solar 360 watts of panels they put out max 16 amps, also will be installing soon a Victron DC to DC 18 amp battery charger to charge while running the engine. Charge voltage should not exceed 14.1V and use bulk only. The Victron DC to DC charger can be set to do that.
Made a rough diagram: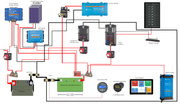 Removed old 71 pound battery. Side by side with the new one 59 pounds: (old battery will be used at home for outdoor solar powered lighting)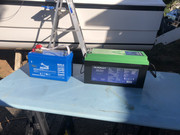 Prepared battery space and installed piece of wood to put the Shunts for house and start batteries.
2004 26M battery box is lower and there is a fiberglass cover that needs to be modified because new battery is higher.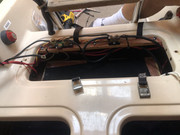 Almost done: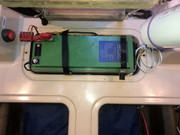 Simple 2 connections to battery the post a Blue Sea MRBF dual fuse block and a smaller fuse block to connect shunt voltage meter, solar and DC to DC charger.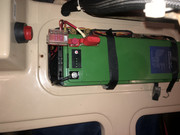 Start battery was moved to starboard and will be making a box for it. To keep firmly in place.
Will be able to run fans, stereo, computers, fridge etc. even if it rains for a few days with the 3X more amp hours available now. And sail all day too on some tacks the mainsail shadows the solar panels.
I did a test with all cabin lights, fans, fridge, navigation lights/equipment, autopilot on and barely uses 10 amps. Normal usage is about less than 5 amps. I like how the battery voltage stays steady 13.3 to 12.9 until almost down to 60%.