I saw this guy driving through town down to the public dock.
I could not believe he drives around with his mast stepped like this, with 12 feet of mast hanging out. (Not to mention he had no red flag.)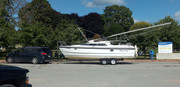 I talked to him and supposed he must live very close by, to drive down here like that. He lives a half hour away by highway and says he's been all over the area.
He said 'Why does it surprise you?' I said 'I'd fear snapping the mast in half'. Apparently, he has no such worries.